Upgrading K10
Note
Currently, upgrades are only supported across a maximum of four versions (e.g., 2.0.10 -> 2.0.14). If your K10 version is further behind the latest, a step upgrade process is recommended where you can use the --version flag with helm upgrade to control the version jumps. At least 50% free space is required in catalog storage also.
Upgrade Assistant
You can check catalog free space and see your recommended upgrade path under Settings -> Support in the UI or by using K10 Primer for Upgrades.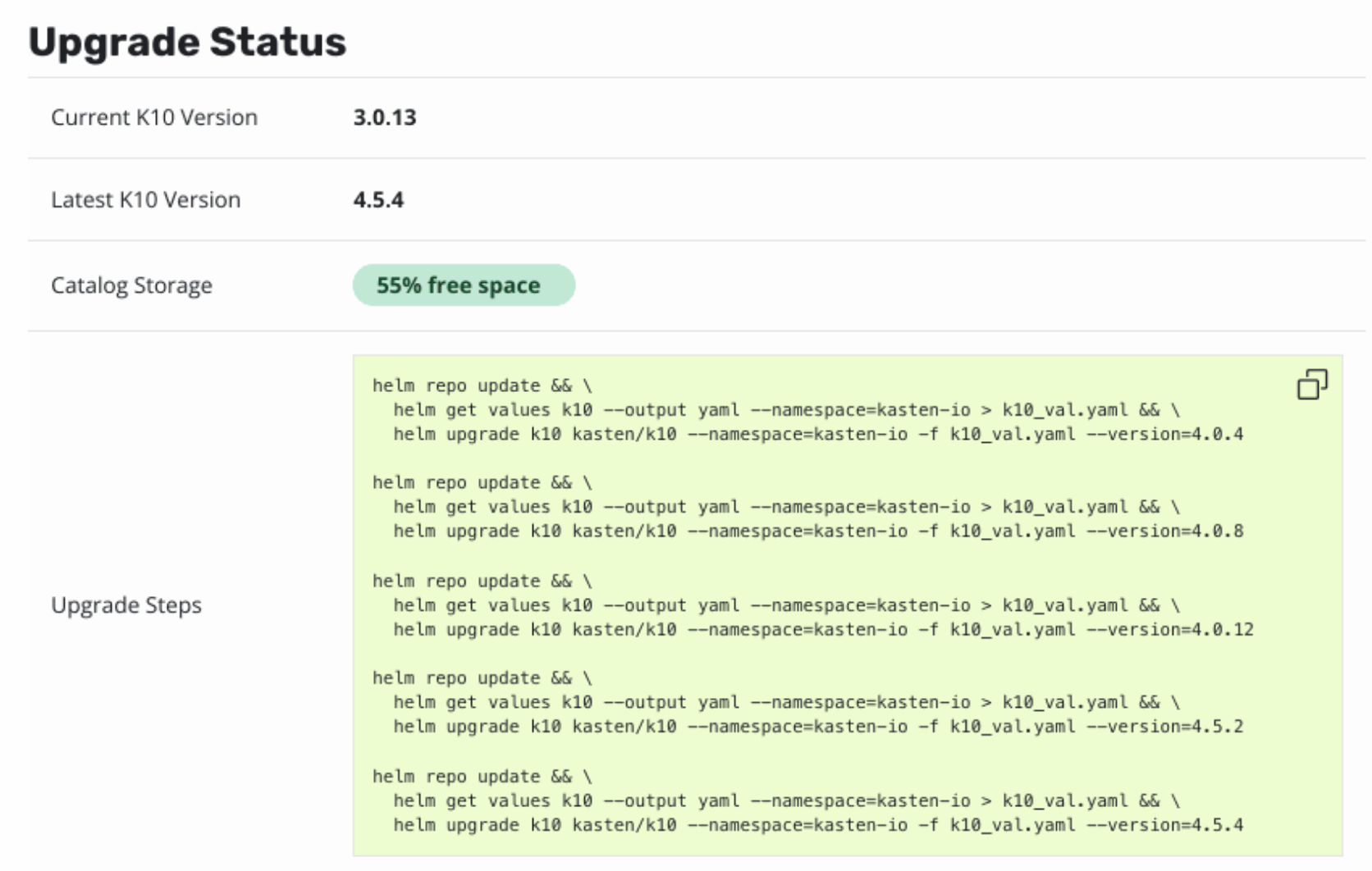 Upgrading Helm-Installed K10
To upgrade to the latest K10 release, unless you have installed K10 via the a public cloud marketplace, you should run the following command assuming you installed in the kasten-io namespace with the release name k10. If you do not remember your release name, you can easily discover that via the use of helm list --namespace=kasten-io.
$ 

helm repo update 

&&

 

\


    helm get values k10 --output yaml --namespace

=

kasten-io > k10_val.yaml 

&&

 

\


    helm upgrade k10 kasten/k10 --namespace

=

kasten-io -f k10_val.yaml

Known Issues: Helm 3 has known bugs with upgrade (e.g., #6850). If you run into errors along the lines of
Error: UPGRADE FAILED: rendered manifests contain a new resource that already exists. Unable to continue with update: existing resource conflict: kind: Deployment, namespace: kasten-io, name: prometheus-server



Please use the following as a workaround and then run the above upgrade commands.
$ 

kubectl --namespace

=

kasten-io delete deployment prometheus-server

Upgrading on the Google Cloud Marketplace
If you have installed K10 via the Google Cloud Marketplace, please follow the instructions here.
Upgrading on the AWS Marketplace
If you have installed K10 via the AWS Container Marketplace or AWS Marketplace for Containers Anywhere, please follow the marketplace upgrade instructions.